Looking for your next ski resort in Germany?
Planning a ski trip to Germany? Use our comprehensive guide to find ski resorts in Germany. Use the list below to find all ski resorts in Germany. Click on the specific ski destination to get more info. On the list you can find information about mountain stats, snow reports, weather forecast, lift info and slope statistics.
Let us help you to find your next favorite ski resort in Germany. Where should I go skiing in Germany? If you've asked yourself this question while planning your next ski holiday, then our big database is here to help you. Find the best ski destinations in Germany and start planning your vacation right here.
The ski season in Germany is one of the best in the world. Whether you're dreaming of wide snowy slopes with white perfect snow or deep wild powder. Germany has it all! Go to Germany to ski and you will experience all that any skier dreams about. Lots of sun, deep snow and good beer and world-class après ski.Germany offers many different ski resorts and destinations. Germany has everything from small cozy mountain villages to large modern cities with smart shops and centers. Lots of destinations also offer ski-in ski-out, which is ideal for families with children.
If you are for group holidays, Germany is ideal. Many ski resorts in Germany offer great cozy cabins, apartments or hotels.
What is special about ski resorts in Germany?
The ski resorts located in Germany are located in the slightly of the Alps bordering Austria. By skiing in Germany you often get a cheaper ski holiday than in many other countries. In Berchtesgaden, which consists of 4 ski areas, recent years have become very popular among the skiiers from all over the world. The most famous areas are Oberstdorf and Garmisch-Partenkirchen, the latter being the only glacier ski area in Germany. The Olympic Winter Games were held in Garmisch-Partenkirchen in 1936.
Therefor you have to find ski resorts in Germany
The hallmarks of the German ski areas are many weekend skiers, due to the popularity of skiing in the country, thousands of skiers drive to the ski resorts in southern Germany every weekend. In the Harz Mountains, Braunlage, Hohegeiss and Hahnenklee are good accommodation for skiing holidays.
In northern Germany there are ski halls, where you can easily get in shape for skiing in the Alps or have a good experience for the whole family. At Hamburg, the Alpincenter is Hamburg-Wittenburg, which is Europe's largest indoor ski hall with an area of 30,000 m2, and which in the winter season is open every day until kl. 23:00.
Information about Germany ski resorts
When skiing in Germany, you can not escape the smell of German sausages or German national Eisbein mit Sauerkraut. Another German tradition is Christmas markets, found in strips along the alps, where you can keep the heat with glühwein in several flavors. In Hamburg, they also have Christmas market and why not take a warm-up ski trip and combine with Christmas skiing after a ski trip in the Alpincenter Hamburg-Wittenburg ski slope and get all the Christmas presents home for Christmas
List of ski resorts in Germany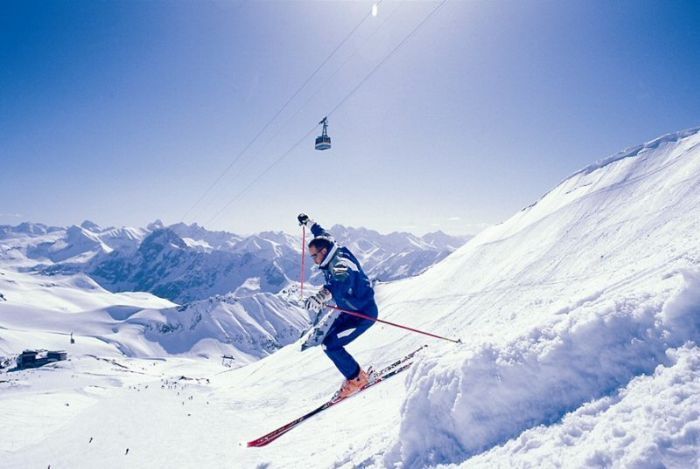 All ski resorts in Germany on a map
Latest photos from #skiingingermany from Instagram